product information
We dream of being a reliable company that takes responsibility for the
health of families with safe and healthy food , Mineral Biotech.
Madecel Cure Premium Gel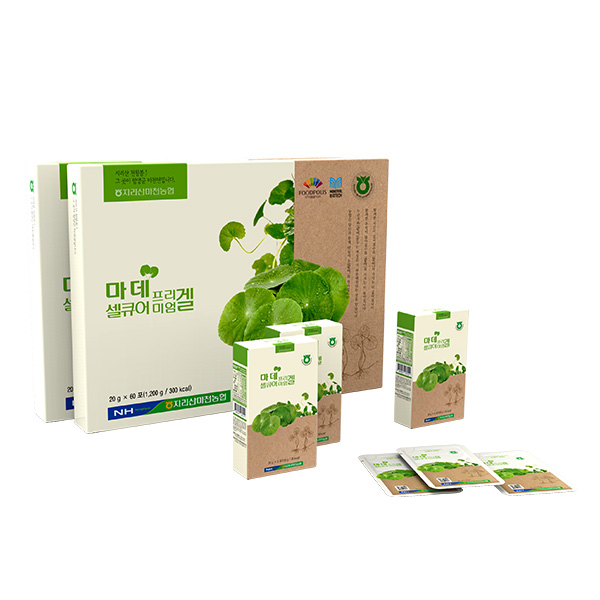 What is Madecasic Acid?

It is an ingredient in the leaves and stems of 'Centella Centella Asiatica (Tiger grass)' and is widely used as a raw material for various products. In India, it is said that the name of tiger grass came from seeing a wounded tiger wallowing in a place where there was a lot of centella asiatica.
[Source: Naver Encyclopedia of Knowledge (2010)]

Distribution: High temperature and humidity in Korea, Japan, China, India, South Africa and the South Pacific region
Size: leaf diameter 2~5cm
Characteristics: In India and Southeast Asia, it is used as an ingredient in salads and drinks.
Made Cell Cure Premium Gel Carefully Selected Ingredients
natural health

What is germanium?

As a mineral contained in minerals, it is widely used in health bracelets and necklaces. It was developed as a food ingredient called 'organic germanium yeast fermented ginseng extract' that can be 'drinking'.

'Made Cell Cure Premium Gel' you can trust and eat

At Mineral Biotech, we will do our best to supply products that all Koreans can trust and eat until the day they become healthy.
Product Information and Nutrition Facts

product name
Made Cell Cure Premium Gel
Capacity
20g × 60 sachets
Type of food
liquid tea
Raw material name and content
Germanium Centella asiatica mixed extract [purified water, reishi mushroom (domestic), mint (domestic), angelica (domestic), astragalus (domestic), goji berry (domestic), jujube, cinnamon, licorice, centella asiatica, organic germanium yeast fermented ginseng extract], Fructooligosaccharide, fermented honey (domestic), processed grain products (Frutmax Brown W.S, Denmark), gintam gum, red ginseng concentrate
How to consume
1 to 2 times a day, 1 sachet at a time
Precautions for ingestion

If you are allergic to certain ingredients, please check the ingredients of the product before ingestion.
When opening or ingesting the product, be careful as it may be damaged by the packaging material.
Precipitation may sometimes occur due to the ingredients of the raw material, but it is not deteriorated, so shake it with confidence.

Storage Precautions

Avoid direct sunlight and store in a cool, dry place.
After opening, refrigerate or consume as soon as possible.